Stories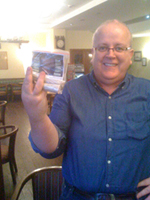 Our first customer!
On May 31 2011 we got our first customer! A long time friend and colleague, Jim Hodnett, looked at the website and loved it so much he immediately ordered a set of bones. Not only that - he did it in Irish!
Take a look at his fantastic email below:
Mo Chara Tomas,
Is iad na cnámha thar barr.
Chomh maith leis sin, is é Ray an fear na bliana, an rinceoir is fearr in Éirinn.
Is mian liom a ordú sraith de cnámha,
Is mise le meas,
Seamas MacSearraigh

I loved seeing the Irish written down - and the other part of this story is I never realised it was an order! I thought it was just a nice compliment. I forwarded it to a few people and my partner Bríd immediately responded (as usual!) and congratulated me on my first sale! I really must brush up on my Irish!!!!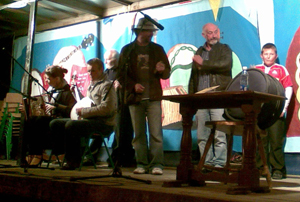 Nathan, Tom's eleven year old son, has this to say:
I first heard about bones from my dad, Tom Connolly. I was interested by the idea and I learned more about it from him. It turns out there is two types of bones, one type is the cow rib and the other is goat shins. I think they are a great traditional Irish instrument,and they are not as recognised as they should be. There is an annual bones competition on in Abbeyfeale. I went to the last one (May 2010) and its great craic, everyone is friendly and welcoming if it is your first time there. I think that if you are going to learn an instrument it is a great one to learn and it will provide you with a lot of pleasure. Also they are good for sessions and if you want to get involved in a session just bring your bones and you'll have a chance to meet new people and have a bit of craic. My father and I have set up a bones business and I want to be able to sell bones to people in England, America and other countries. It will be a great experience making a business and selling globally. We are going to engrave names, pictures and messages on our bones and I hope people will think of them as nice gifts to family & friends.
- Nathan Connolly


How did it all start?
Back in 1979, in Galway, my two brothers set up a traditional Irish band with a couple of friends, to have some fun and make a few pounds to help their way through college. At the time I was just starting to play the Bodhrán and I used to join in the sessions sometimes. I love the Bodhrán, and love playing to slow melodic songs as well as wild Irish tunes - but I found myself wanting to play other instruments.
I tried to learn mandolin but just couldn't get the hang of it at the time. One of the guys in the band was called Joe Stevens, from Tuam - brother of Pádraig, a singer/songwriter who drummed with the Saw Doctors in the early years. Joe was nicknamed "Joe Strokes" - in fact for a long time I thought that was his real name! Joe Strokes asked me one day why I didn't play the bones. I didn't know what he was talking about, so he introduced me to them and showed me how to play them using two spoons. Joe is a very talented musician, so I was very impressed when he talked about how much the sound of bones adds to a session. When I asked Joe where could I get a set of bones, he told me I would have to make them. "How?" I asked. Joe replied: "Go to the butcher down the road and ask him for beef ribs. Get him to cut them about 6 inches long. Then boil them for 3 hours, hollow them out, bake them for another three hours, and you'll have a set of bones. So I made my first set over the next few days. I still have them.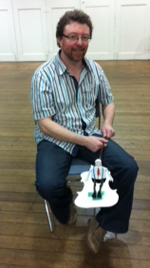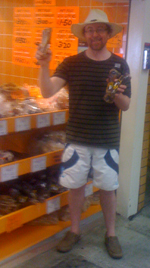 I made some wooden bones in Australia.
I have a two sisters in Australia and I like to get out to see them as often as I can. For many years we didn't see each other much due to cost, distance, when our kids were young. As a family we have been scattered around the globe most of our adult lives - but in the last few years I have been lucky enough to be able to make the trip to Oz a number of times. This year (2011) I decided to enlist my sister's help to track down kangaroo bones to try them out. And we found them! in a pet food stall in South Melbourne market. They need a lot of work though - I'll post updates on how I get on with them.
I had been in touch with Comhaltas Melbourne, www.melbournecomhaltas.org, a branch of Comhaltas Ceoltóirí Eireann and they had kindly invited me to play at their weekly get-together. I had hope to have kangaroo bones ready, but instead I made two sets from wooden spoons. They worked :-). What worked a lot better though was Reeling Ray - I brought him all the way to Melbourne and he danced beautifully that night!